These jars will reward you with precious tokens if you put dye into them.
Use those tokens on the Croaking Spring to make a wish!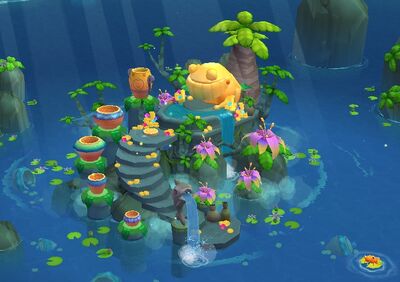 Available with version 2.5.0 of the game (released May 18th)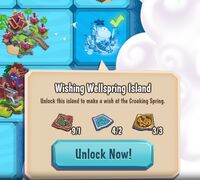 Creating Wish Tokens
On this island you will find 5 wishing jars

,

,

,

,

.
Drop a dye into a jar to create a Wish Token :
The jars reward you with XP

each time you fill them:
You will have to wait 1 hour before being able to make another Wish Token in the same jar. Or rush for 7x

.
Making A Wish at the Croaking Spring
The Croaking Spring

makes Wish Tokens in exchange for the wish jar tokens you collect on the island (only 1 Wish Token at a time).
Wildlife Spotting
Keep an eye out for orange, green and red frogs, which are sometimes hidden behind the stone pillars or the Croaking Spring.
Community content is available under
CC-BY-SA
unless otherwise noted.