The real love birds.
Competing to be the lovey-dovey birds of Paradise Bay.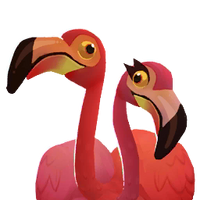 How to get
Grand prize of the February 2017 LoveFest (special Valentine's themed TradeFest).
Also available at the Pet Sanctuary

for 10x stickers
.
Info
Prize for the February 2017 LoveFest along with Incense Vase

and Lover's Tiki

decorations.
You can place the Incense Vase and Lover's Tiki at the top two edges of this pet's habitat to make a heart shape.
Feeding, Rewards, Level
You can feed this pair of pets with 2x Shrimp

or Primo Pet Treats

and you will receive a reward.
Possible rewards
In addition with pet's specific rank reward, see here : Pet reward chart

See here Pets and here Pet Sanctuary for all info on nap time, feeding, rewards and more.

 

Pets

Bronze
Silver

Pretty Pretty Peacock Queen Crab Lovebirds Panda Bunny Orca Koala Shark Happy Hippo Plaidypus Orange Hedgehog
Wild Turkey Polar Brrr Kingpin Penguin Te Amos Flamingos Shelly

Baby Chicks Manta Ray Tiger Shark Blue Dolphin Mountain Llama Frightful Flying Fox Snowy Owl Cuddles Arctic Fox White Tiger Cub Sweetheart Squirrel Ermine Ducklings Hummingbirds Orangutan Kitten Beached Beaver Eagle Meerkats Miles the Crocodile Crowned Crane Blanche the Goat Paulie the Parrot Owlbert Wolf Electric Eel Santa Bear Reindeer Long Eared Mouse Camel Sweetheart Swans Lion Ostrich

Gold

King Crab Monkey of the Year Kraken Golden Tiger Cub Giraffe Phantom Parrot Panther Red Panda Tortoise Oasis Kiwis Rooster of the Year Flying Squirrel Shih Tzu Piglet Chillin' Walrus Shiba Inu Rainbow Lizard Phantom Shark Phantom Manta Ray Phantom Hedgehog Dodo Bird Phantom Platypus Loch Ness Monster Phantom Kiwi Chip and Dip Pegacorn White Hart Phantom Cuttlefish Dragon Hatchling Ghost Pelican Rainbow Snail