Your island has two storage spaces:
- Windmill Storage holds all harvested crops.
- Treehouse Storage holds all other resources and goods.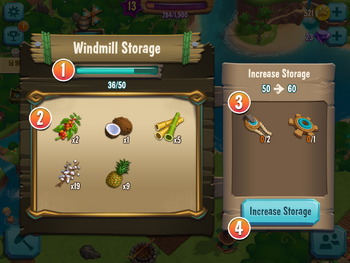 1) Measures your current storage capacity (this picture shows 36 out of 50 storage slots are filled).
2) Displays your stored items and their quantity.
3) Displays resources needed to increase storage space.
4) Tap to increase storage space (once resources or gems are available).

It's always a good idea to monitor your storage space to see what you can fit. Remember to upgrade when necessary!