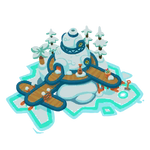 Siku is a neighbouring islander who lives on
Penguin Island
, and will visit your docks after you unlock his island.

At Relationship Level 10 with Siku you can place his
Penguin-scope
on your own island.
Relationship Levels
Level
1
2
3
4
5
6
7
8
9
10
Points to Next Level
40
80
160
240
400
600
1000
1400
2000
5000
Siku Quotes
On Penguin Island:
My name Siku means "Ice" which is fitting I suppose.
Maybe one day I'll try to train one of these penguins to catch fish for me.
I just love coffee! I heard you have an Arr'Bucks on your island.
I wish we had a summer season here. I could wear shorts and go for a swim.
I think Chef Otomo on Shoyu Island could use some of my fish in his sushi.
I'm constantly catching everything except fish from that fishing hole over there.
I'd catch more fish if I could swim like these penguins.
I once heard a story about a penguin who loved bowling. Sounds fishy to me.
Arctic Ice is the best to use in drinks, food, pretty much anything.
...
Community content is available under
CC-BY-SA
unless otherwise noted.