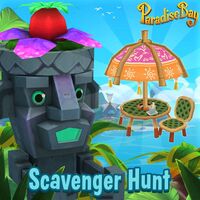 The Scavenger Hunt began August 8th 2016, and consisted of a series of 4 puzzles, one each week for a month. The event celebrated the one year anniversary of the game.
Finn : Trademaster! Keani! I found something super weird! You gotta come see!
Keani : Wow! I could walk around this island blindfolded, I know it so well. Yeah, this is definitely new!
Finn : Look! There's a piece of paper attached to it!

The Guardian who appeared at the top of the hill to the north of the island will provide a hint, the characters of your island will be quick to guide you and you will either need to find an object on the island, make certain items, or complete trade requests....

As rewards, an exclusive decoration each week :
1st week: Paradise Dining Set


2nd week : Lifeguard Tower


3rd week : Water Cannon


4th week: Fireworks Cart