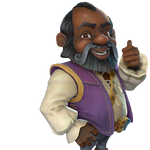 Description
Pike was mistaken for a sea monster when he was washed up on shore covered in seaweed. He completely denies being a pirate, despite all his knowledge of pirates and piracy. He is completely certain that Wesley is a terrible pirate.
When Pike's Trade Post orders and relationship level-ups are sufficient, his area upgrades with a little house with a pirate flag and his boat as a roof.
Relationship Levels
See at Characters Levels Chart
Appearance
Pike Quotes
Citations (clic "Show" to see) =>
Since I'm not a pirate, I couldn't say if there's treasure here.
Caffeine is nature's way of sayin' 'I like ye!'
Pike's the name, tradin's the game. And coffee.
I'm not a pirate, I'm a simple island-dwellin', coffee-makin', ordinary bloke.
Ahoy, Trademaster. How's the latest coffee crop?
There's an art to good coffee, and ye might think of me as an artist.
A day without coffee is like a day spent keelhauled from the poop deck.
If it's pirate booty yer lookin' fer, yer lookin' at the wrong bloke.
It's time fer coffee, matey. But then it's always time fer coffee.
I s'pose there're worse places I could've washed up.
Shiver me timbers! Don't sneak up on a body that way.
I'm just a quiet old landlubber who happens to look a lot like a pirate.
A fine day for sailin'. Too bad me boat's gone to coral...
Mindin' me business and catchin' fish. Just an ordinary bloke doin' ordinary things.
I'm not a pirate. Do I look like a pirate to ye? Don't answer.
Me old mum used to say, 'Son, when life gives ye lemons, trade 'em for coffee.'
I'm cuttin' down on coffee. Only drinkin' it on days endin' in 'Y.'
Sometimes I think, 'Where would I be without coffee?' Home in bed, I s'pose.
If you wanna see a smile on me face, ye'd better be pourin' me some coffee.
As me old mum used to say, 'Behind every great man is a considerable amount o' coffee.'
The only thing better than a cup of coffee is another one. And a refill.
First, coffee. Then some more coffee. Then we can talk.
Fifteen men on a dead man's chest... Oh, hello there, Trademaster.
Me old mum used to say, 'There's two kinds of people. Coffee people and sleepy people.'
It's a fine day to be an ordinary trader, don't ye think?
Paradise Bay is as nice a place as I've seen, and I've seen more than most.
That wee Finn is a handful, is he not? Reminds me a bit of meself as a young tad.
The stories Finn tells! If half were true, he'd be as famous as... er...somebody. Somebody famous.
I don't know how Keani manages Finn. I'd be up a tree.
Not everythin' a man has done in his youth is worth rehashin' when he's older and wiser.
You probably didn't know, but I made some unwise decisions in me younger and wilder days.
Young Finn thinks he wants to be a pirate. Ah, to be that innocent again!
It's a fine day to be alive and tradin' fer all yer worth, eh?
There's naught like a good trade to start yer day. 'Cept fer coffee.
Of all the places I might have fetched up, I'm a lucky man to have come to Paradise Bay.
Ahoy, Trademaster. Ready to sail the Trade Post seas this fine day?
Characters on your Island
Characters from Neighbouring Islands and Docks
Community content is available under
CC-BY-SA
unless otherwise noted.