Stay cool all year round by coming to this new island. Unlock the glacial hideaway to exchange Arctic Ice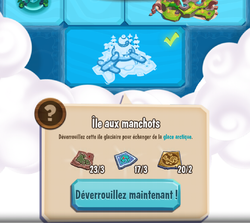 Relationship Rewards

This island yields specifically
Arctic Ice every 8 hours once you have reached level 5 relationship with Siku, 1 or 2
Arctic Ice at level 7-8 relationship, and 2x
Arctic Ice once you have reached level 9 relationship.


Max Relationship Reward

At level 10 relationship with
Siku
you get the
Penguin-scope
. It is a type of decor that does an animation when you tap it.
Selling
Whatever level of relationship with Siku, he sells every hour a variable amount of:
1-3

Charcoal
1-4

Iced Coffee
1-4

Espresso
1-4

Vanilla Latte
Buying
Every hour also, Siku offers to buy a variable amount of:
2-6
Chili Pepper
1-2

Grilled Shrimp
1-2

Spicy Fish Stew
1-2

Spicy Mocha
At Level 10:
1x

Golden Fleece
Icebreaker!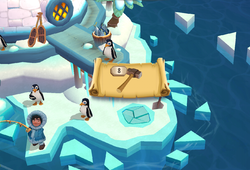 There is a patch of ice on the right of the island which you can break with a

Sledgehammer
. Once the penguin has jumped in and climbed out you'll receive a reward (like Dreadbird's cave or Ghost Ship Cove cave).
The ice hole re-freezes after (about) 36 hours.
The rewards for breaking the ice are:
100-150
100-150
50% chance of:
Or 50% chance of:
Community content is available under
CC-BY-SA
unless otherwise noted.