Build the Nocturnal Nautilus Boat!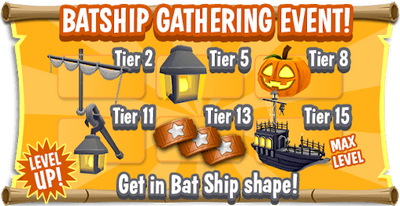 Description
Available during the Nocturnal Drafting Table special event from Oct 24rd - Nov 4th 2018.
Nocturnal Nautilus Boat : boat parts
Name
Image
Description
Cost
Nocturnal Nautilus Hull
Maintains great visibility at night.
Level 15
Nocturnal Nautilus Sail
Give it a minute to get ready.
Level 2
Nocturnal Nautilus Figurehead
Don't worry, it's securely fastened.
Level 11
Nocturnal Nautilus Lamp Topper
Light the way!
Level 5
Nocturnal Nautilus Jack O'Lantern
Tells the evil boats to stay away.
Level 8
See also
Salvage Shop

, Shipyard


Gilded Lily

, Black Jack's Ghostly Galleon, Grand Holiday Sloop, Grand Swan Boat, Royal Shih Tzu Sloop, Springtime Schooner, Cinco de Mayo Velero, Redwood Reaver, Prancing Peacock, Dreadnaught Dragster, Gulliboat

, Archaeology Ark

, Back to School Boat

, Nocturnal Nautilus Boat

Community content is available under
CC-BY-SA
unless otherwise noted.