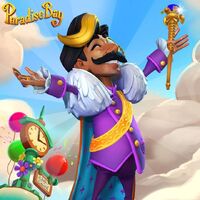 Horatio Jasper is a character that introduces and runs TradeFest, FlashFest and Scavenger Hunt Limited-time Events.

Horatio Jasper Quotes
Trademaster! I love what you've done with the place.
Remember, people! ABC! Aways Be Trading! Peacocks are for traders only!
I'm holding this edition of TradeFest especially in honor of Paradise Bay!
I simply must get Yasmin to make me a brand new outfit for the next festival!
If you like TradeFest, wait until you see what I've got planned next!
I just never tire of festivals! They make everything so...festive!
This festival is going smashingly, don't you agree? Of course you do!
Are you enjoying my festival, Trademaster? Ha! Who am I kidding? Everyone loves TradeFest!
Trade, everyone! Trade! That's what TradeFest is all about!
Trading is my middle name! Well, actually it's Irving, but you get my meaning.
I was a trader once myself, you know. It's how I made my fortune. Now I spend it throwing festivals!
It's been far too long since I left Magnus Sola. It's a lovely island, but a bit...lonely.
Paradise Bay is busier than I've seen it in years. Huzzah, Trademaster!
Trademaster! Are you ready to complete my latest challenge?
Who is this Clara Stone, and how have we never met? I thought I knew everyone.
Everyone's a winner at TradeFest!
Do you like my airship? I call her the Fowl Weather Friend. Get it?
You must all visit me on Magnus Sola! So few people do.
How many traders does it take to change a lantern wick? No seriously, I'm asking.
Trade! Trade! Trade! The clock is ticking, my friends!
Characters on your Island
Characters from Neighbouring Islands and Docks
Community content is available under
CC-BY-SA
unless otherwise noted.