m

 

(27 intermediate revisions by one other user not shown)
Line 1:
Line 1:
−

<onlyinclude>{{Infobox Character Transformer

+

<onlyinclude>{{

 

|style = {{{style|}}}

 

|style = {{{style|}}}

 

|name = Dreadbird

 

|name = Dreadbird

 

|image = Avatar-Dreadbird.png

 

|image = Avatar-Dreadbird.png

−

|imagewidth = 100%

+

| =

−

|location = Dreadbird's Fort <br> Docks

+

|location = Dreadbird's Fort<br>

 
+

{{:Merchant Ships|style=namediconmed}}

−

}}</onlyinclude>

+

}}</onlyinclude>

 
 
 
⚫
 
 
 
⚫
⚫
 
 
+
 
+
 
⚫
 
+

! colspan="19" |Relationship Levels {{Heart}}

 
⚫
 
+

|align="left" width="60%"|Level

 
+

|1

 
⚫
 
+

|3

 
+

|4

 
+

|5

 
+

|6

 
+

|7

 
+

|8

 
+

|9

 
+

|10

 
⚫
 
+

|align="left"|Points to Next Level

 
+

|40

 
+

|80

 
+

|160

 
+

|240

 
+

|400

 
+

|600

 
+

|1000

 
+

|1400

 
+

|2000

 
+

|5000

 
+

|}

 
 
⚫
 
−

{{clrl}}

 
 

==Dreadbird Quotes==

 

==Dreadbird Quotes==

 
+

===As Merchant Trader at Docks:===

⚫
 
 
+

*''AWK! Shiver me feathers! It's Paradise Bay!''

⚫
 
 
+

*''Me hold's empty! AWKward!''

⚫
 
 
+

*''Mine! Mine! Mine!''

 

*''DEAD MEN SHOP NO SALES. Muahaha *cough* AWK!''

 

*''DEAD MEN SHOP NO SALES. Muahaha *cough* AWK!''

 
⚫
 
 
−

==See also==

+

== ==

 
+

*''Ho there! Ahoy! Awk!''

⚫
 
 
+

*''I'm Dreadbird, I am. Awk! Dreadbird the pirate.''

−

! colspan="9"|Merchant Traders

 
 
+

*''I'm the highest-flying pirate in Paradise Bay. Awk! ONLY flying pirate, as it happens.''

−

|-valign="top"

 
 
+

*''Top of the day to ye, Matey!''

⚫
 
 
+

*''Ahoy, Trademaster! Fine day for a trade! Awk!''

−

[[File:Avatar-George.png|60px|link=George]]

 
 
+

*''Wanna hear a sea chanty? 'Weigh heigh and up she rises!' Awk!''

⚫
 
 
+

*''I've a fine singing voice if I do say so myself. 'Bold Riley, oh, boom-a-lay!' ''

−

[[File:Avatar-Mai.png|60px|link=Mai]]

 
 
+

*''They seldom ask me to sing, and more's the pity. 'Bold Riley, AWK! gone away!' ''

−

| align="center" |

 
 
+

*''Aye, I'm known across the waves. And above 'em, too.''

−

[[File:Avatar-Dreadbird.png|60px|link=Dreadbird]]

 
 
+

*''It's a fine day for tradin' and piratin'. Huzzah, I say! Huzzah. Awk!''

−

| align="center" |

 
 
+

*''New poem! 'I saw you a' sailing, your ship I sank. Give me your money and walk the plank!' ''

−

[[File:Avatar-Yasmin.png|60px|link=Yasmin]]

 
 
+

*''Pirate poetry. Awk! 'How now, matey, ahoy and halloo. Hand over your gold and I won't run you through.' ''

−

| align="center" |

 
 
+

*''Dreadbird's the name. Me friends call me CAP'N Dreadbird.''

−

[[File:Avatar-Cartographer.png|60px|link=Carl the Cartographer]]

 
 
+

*''Blow high, blow low, and so sail we...' I'm in fine voice today. Awk!''

−

| align="center" |

 
 
+

*''Papaya!''

−

[[File:Avatar-GemTrader.png|60px|link=Gem Trader]]

 
 
+

*''I wrote a sea chanty. 'Hey ho and away we go, way, hey, ho!' Awk! That's all I've got.''

−

| align="center" |

 
 
+

*''Ahoy the Captain, give me your gold. I'll clap you in irons, your story is told.' Whaddya think?''

−

[[File:Avatar-Rico.png|60px|link=Rico]]

 
 
+

*''I'm the most dreaded seagull pirate from here to far Tortuga. Believe it.''

−

| align="center" |

 
 
+

*''Rubies and sapphires and pieces of eight. Empty yer pockets, or I'll have ye for bait.' Awk!''

−

[[File:Avatar-Merchant1.png|60px|link=Other Merchant Traders]]

 
 
⚫
−

| align="center" |

 
 
⚫
−

[[File:Avatar-Merchant5.png|60px|link=Other Merchant Traders]]

 
 
+

*''I love tradin'. And piratin'. And fish. I'm awfully fond of fish.''

⚫
 
 
+

*''Here on Dreadbird's Fort we like to trade...when we're not boardin' ships and plunderin' and all that.''

 
+

*''If you're lookin' for the most famous seagull pirate in these parts, you've found 'im.''

 
+

*''Ar-harr, me bucko! Come to trade? Take in the views? Join me for some lovely raw fish?''

 
+
 
+

==Trivia==

 
+

*Quote: ''By Blackbeard's Blade, what a savings! AWK!'' is a spoof on Galaxy Quest's Quote: ''[https://www.youtube.com/watch?v=kgv7U3GYlDY By Grabthar's Hammer, what a savings]''.

 
+
 
+

{{Merchant Trader Menu}}

 

[[Category:Merchant Traders]]

 

[[Category:Merchant Traders]]
---
Latest revision as of 13:08, 1 August 2018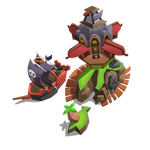 Dreadbird is a Merchant Trader, who offers Black Powder

or pet stickers.
He also has his own island, Dreadbird's Fort

.
Relationship Levels
Level
1
2
3
4
5
6
7
8
9
10
Points to Next Level
40
80
160
240
400
600
1000
1400
2000
5000
Dreadbird Quotes
As Merchant Trader at Docks:
AWK! Shiver me feathers! It's Paradise Bay!
Me hold's empty! AWKward!
Mine! Mine! Mine!
DEAD MEN SHOP NO SALES. Muahaha *cough* AWK!
By Blackbeard's blade, what a savings! AWK!
On his Island :
Ho there! Ahoy! Awk!
I'm Dreadbird, I am. Awk! Dreadbird the pirate.
I'm the highest-flying pirate in Paradise Bay. Awk! ONLY flying pirate, as it happens.
Top of the day to ye, Matey!
Ahoy, Trademaster! Fine day for a trade! Awk!
Wanna hear a sea chanty? 'Weigh heigh and up she rises!' Awk!
I've a fine singing voice if I do say so myself. 'Bold Riley, oh, boom-a-lay!'
They seldom ask me to sing, and more's the pity. 'Bold Riley, AWK! gone away!'
Aye, I'm known across the waves. And above 'em, too.
It's a fine day for tradin' and piratin'. Huzzah, I say! Huzzah. Awk!
New poem! 'I saw you a' sailing, your ship I sank. Give me your money and walk the plank!'
Pirate poetry. Awk! 'How now, matey, ahoy and halloo. Hand over your gold and I won't run you through.'
Dreadbird's the name. Me friends call me CAP'N Dreadbird.
Blow high, blow low, and so sail we...' I'm in fine voice today. Awk!
Papaya!
I wrote a sea chanty. 'Hey ho and away we go, way, hey, ho!' Awk! That's all I've got.
Ahoy the Captain, give me your gold. I'll clap you in irons, your story is told.' Whaddya think?
I'm the most dreaded seagull pirate from here to far Tortuga. Believe it.
Rubies and sapphires and pieces of eight. Empty yer pockets, or I'll have ye for bait.' Awk!
They squawk my exploits from the Bay of Cathay to the Antipodes. Awk!
Ahoy, matey! Looking to trade? Or I could rob you and hang you from the yardarm. Up to you.
I love tradin'. And piratin'. And fish. I'm awfully fond of fish.
Here on Dreadbird's Fort we like to trade...when we're not boardin' ships and plunderin' and all that.
If you're lookin' for the most famous seagull pirate in these parts, you've found 'im.
Ar-harr, me bucko! Come to trade? Take in the views? Join me for some lovely raw fish?
Trivia
Community content is available under
CC-BY-SA
unless otherwise noted.