Designing your very own Paradise
Customizing your island is easy in Paradise Bay! Here's how it's done.
It's helpful to think of Island Building as three main actions: Building, Moving, and Clearing.
Building
Tap the Build menu

to start. Find the item you'd like to build, then tap, hold, and drag the item onto any open space on your land.
The item's "footprint" is represented by the squares you see underneath it. Green squares indicate good placement. Red squares mean placement is obstructed, so keep dragging until all footprint squares are green.
Moving and Storing
To move any Mill, Field, Harvester, or Decoration on your land, tap and hold the item until the movement circles appears and fills

, then drag the item to any open area. Or with Decor you can store by choosing the open box icon.
Clearing Part 1: Expand your land
Is there an overgrown area of the island you'd like to use? Just tap it!
You can build on most areas of the island, but may need some help from your favorite construction seagulls to clear space. Tap the area you'd like to start using, and if it's ready to be unlocked, you can purchase the expansion with

Coins.
In addition to more space, some new land expansions give you a free, special decoration to place wherever you'd like.
These free decorations are stored in your inventory. To find them, open the Build menu and tap the Decorations tab. Free decorations are listed as "Stored."
For example, we received the fish statue below from an expansion!

Clearing Part 2: Remove unwanted items
Be your own landscape artist! Tap the tree, shrubbery, or rock you'd like to remove. This displays the clearing tool you'll need to clear the obstruction.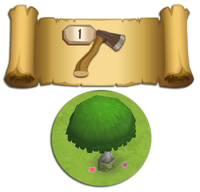 Next, drag the tool over the object—and you're done!
Note: If you do not have any of the required tool, you'll have the option to purchase one using

Gems. You'll get more clearing tools from treasure chests and trading with merchant captains at your docks.
Community content is available under
CC-BY-SA
unless otherwise noted.