Template:Infobox Character Transformer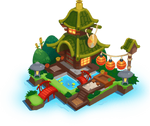 Chef Otomo is a
Merchant Trader
, who can offer
Clearing Tools
,
Upgrade Resources
and even possibly

Gems
.
He also has his own island, Shoyu Island.
Chef Otomo Quotes
As Merchant Trader at Docks:
Konnichiwa! I've heard you have the best of everything here in Paradise Bay!
Have you had your sushi today? Nigiri every day keeps the doctor away!
You should visit me on Shoyu Island. I'll make you my Twilight Roll!
Paradise Bay is as beautiful as everyone says it is! Shall we trade?
What a beautiful day for a visit to Paradise Bay. Let's do some trading!
On his Island :
Let me fix you some of my special nigiri.
Konnichiwa! Good day!
O genki desu ka? How are you? Are you well?
Sushi makes everything better!
I make my sushi from fish fresh-caught by friendly turtles. And George, of course!
Any time is the right time for sushi. Like now!
I am Paradise Bay's most renowned sushi expert! Also, its only sushi expert.
You know what goes well with sushi? Some delicious tempura.
Otomo's Sushi Bar offers the best sushi in Paradise Bay. I dare you to prove otherwise.
I could make sushi anywhere in the world, but I love this place best.
My mother was a sushi chef. Her father was a sushi chef. My father was a sushi chef. His mother... 
Life is better at the beach. But it can still be improved with sushi!
My Twilight Roll is exclusive to Shoyu Island! I only sell it to my favorite customers. Have some!
I'm originally from Japan. Have you ever been?
It's good to see you, Trademaster-san!
How are things on your island, Trademaster? I should visit soon.
I must visit Mai soon. Her rainbow fruit is so delicious!
The Twilight Roll is delicious today. George brought me his catch this morning!
Do you like my outfit? Ms. Yasmin makes all my clothes. She's an artist.
Dreadbird and his crew visited recently. They're big sushi fans.
Trademaster! So good to see you again.
Have you come for more of my sushi? I'm so glad!
Another perfect day on Shoyu Island. How did I get so lucky?
Aside from sushi, soy sauce is my favorite thing. That's why I named my island Shoyu!
Paradise Bay has the best fish anywhere! Good thing I live here.